ID:286

Tohoku University Symposium  Our Message to the future  ~ Lessons learned from the Great East Japan Earthquake ~
Date

2015-03-15(Sun)

Time

10:00-17:15(Door Open 9:30)

Venue
Report has released
Language

Japanese

Translation

Simultaneous interpretation
Contact/Entry
【Media Inquiries】
Public Relations Division
TEL:+81-22-217-4977
E-mail:koho@bureau.tohoku.ac.jp

== We have closed the entry because of the full capacity. ==
Organization
Tohoku University
Tags
PDF file
Report
| | |
| --- | --- |
| Number of participants | 1,500 |
The Tohoku University symposium started with a special lecture from United Nations Secretary General Ban Ki-moon. He began his speech by saying that Tohoku University is a valuable member of the United Nations Academic Impact, an initiative which he launched a few years ago. Ban Ki-moon said that he was counting on Tohoku University's Reconstruction projects, particularly the Global Centre for Disaster Statistics to help monitor progress on the new global disaster risk reduction framework.
This lecture was followed by panel discussions on "The 2011 Tohoku Earthquake Disaster and its Mitigation", "Innovation and Reconstruction of Industry and Community" and "Restoration and Renovation of Medical Care". Our 8 priority project leaders , Andrew Gordon (Professor of Harvard University) and Takayuki Hashimoto (Vice Chairman of IBM Japan) all participated in the discussion.
The afternoon session started with lectures titled "Lessons learned from the Great East Japan Earthquake" given by Fumihiko Imamura(Director of International Institute of Disaster Science), Ryota Hino (Professor of International Research Institute of Disaster Science), and Tadashi Ishii (Tohoku University Hospital).
Finally, Marty Kuehnert (Senior Advisor to the President) and Japanese pop band "Nihonjin Project " held a talk session entitled "To the Future".
This symposium was attended by about 1,500 people. As a comprehensive university at the heart of the disaster-stricken region, we shared the experience and knowledge learned from the disaster with the international community, creating an important opportunity to contribute to disaster prevention and mitigation at home and abroad. We are determined to continue our efforts for the recovery, with wishes for not only the reconstruction of Tohoku region, but also the regeneration of Japan.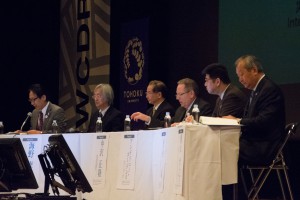 The panel discussion
Downloads
Outline
Centrally located in the disaster affected area, Tohoku University is committed to the reconstruction of the Tohoku region and to the revitalization of Japan's economy.
To consolidate expertise, a university-wide organization the Institute for Disaster Reconstruction and Regeneration Research (IDRRR) was established in April 2011. The institute continues to provide specialist scientific, technological and humanitarian support to the region.

The IDRRR symposium is a platform to share the lessons learned from the Great East Japan Earthquake, as well as research results and ongoing activity at the university.

Detail
First Part: Leading the reconstruction of the Tohoku region and the revitalization of Japan
10:00~12:50
Special Lecture:
Ban Ki-moon ―The Secretary-General of the United Nations
Opening address
Speaker:Nobuyoshi Hara – Executive Vice President for Earthquake Disaster Reconstruction, Tohoku University
Panel discussion ①
「The 2011 Tohoku Earthquake Disaster and its mitigation」
◆Coordinator:Fumihiko Imamura – Director of International Research Institute of Disaster Science (IRIDeS), Tohoku University
◆Panelists:
・Masataka Nakazawa – Executive Director of Research Organization of Electrical Communication (ROEC), Tohoku University
・Makoto Okumura – Deputy Director of International Research Institute of Disaster Science (IRIDeS), Tohoku University
・Norihito Umino – Professor of Inter-Graduate School Doctoral Degree Program on Science for Global Safety, Tohoku University
・Andrew Gordon – Professor of Harvard University
・Takayuki Hashimoto – Vice Chairman of IBM Japan, Co-Chairman Committee on Risk Management of KEIDANREN
Panel discussion ②
「Innovation and Reconstruction of Industry and Community」
◆Coordinator:Yutaka Nakai – Professor of Graduate School of Agricultural Science, Tohoku University
◆Panelists:
・Kazuyuki Tohji – Professor of Graduate School of Environmental Studies, Tohoku University
・Akihiro Kijima – Professor of Graduate School of Agricultural Science, Tohoku University
・Masahiko Fujimoto – Director of Regional Innovation Research Center, Tohoku University
・Takashi Nakamura – Professor of Institute of Multidisciplinary Research for Advanced Materials (IMRAM), Tohoku University
Panel discussion ③
「Restoration and Renovation of Medical Care」
◆Coordinator:Kazuhiko Igarashi, Professor of Graduate School of Medicine, Tohoku University
◆Panelists:
・Hideo Harigae – Director of Comprehensive Education Center for community medicine, Tohoku University
・Masayuki Yamamoto – Executive Director of Tohoku Medical Megabank Organization, Tohoku University
・Keizo Ishii – Director of Research Center for Remediation Engineering of Living Environments Contaminated with Radioisotopes, Tohoku University
・Manabu Fukumoto – Professor of Institute of Development, Aging and Cancer, Tohoku University
Second Part: Lessons learned from the Great East Japan Earthquake
14:00~17:15
Opening address
Speaker:Susumu Satomi – President of Tohoku University
Lecture:New role of the Tsunami Engineering on the basis of the lesson by the 2011 Tohoku earthquake disaster
Speaker:Fumihiko Imamura – Director of International Research Institute of Disaster Science (IRIDeS), Tohoku University
Lecture:Towards earthquake forecasting -Hints provided by the 2011 Tohoku Earthquake
Speaker:Ryota Hino – Professor of International Research Institute of Disaster Science (IRIDeS), Tohoku University
Lecture:Building a platform for future regional medicine, training future specialists of regional care
Speaker:Tadashi Ishii – Tohoku University Hospital
Talk Session: "To the Future"
Facilitator: Marty Kuehnert–Senior Advisor to the President
Guest:"nihonjin project"